Hedge Trimmers Buying Guide
---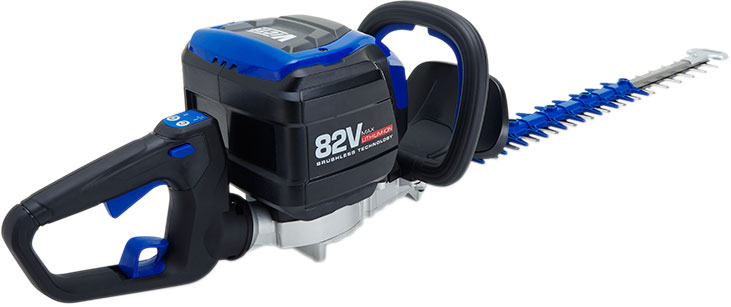 Hedges are one of the greatest, and most traditional, landscape elements in the garden. They are so useful and so versatile - use them to separate garden areas or rooms, create privacy, hide an ugly area, frame or highlight a view or to create a backdrop for other garden areas.
Hedges can take virtually any form you need from traditional, formal square edged to curved and just about anything in-between. No matter what type of hedge shape or purpose there's one thing that's consistent – regular trimming creates a quality, dense hedge.
In the not too distant past this would have been done with old school manual hedging shears but now petrol and battery hedge trimmers have made hedge trimming fast, easy, efficient and even fun!
Tip - Hedge trimmers aren't just for keeping hedges in shape. They are super-useful for general garden tidy-ups, keeping shrubs and smaller plants from looking shaggy and untidy. They're also ideal for quickly dead-heading beds of annuals or perennials once they've finished flowering.
Petrol Hedge Trimmers
Petrol driven hedge trimmers are the most widely available machines. They are extremely portable, powerful and flexible in their use. As most are 2-stroke machines they will require correctly mixed fuel. Petrol hedge trimmers are generally considered as the better choice for situations with a lot of hedges and trimming.
Regular servicing is a must for petrol hedge trimmers, just as with all petrol-driven machines. Servicing at regular intervals will extend the machines useful operating life and will make sure your trimmer is always running smoothly, efficiently and safely.
As they are pretty straight-forward machines you can perform much of the maintenance yourself with the appropriate parts from a Victa Gold Dealer or save yourself the hassle and book it in for a service and tune-up. Click HERE for our Victa Gold Dealer dealer locator.
Battery Powered Hedge Trimmers
Advances in battery technology have seen battery powered hedge trimmers rapidly gaining popularity. With their lighter weight they are easier to handle, quieter and have no exhaust emissions making them more pleasant to use, and they don't require regular servicing. To get the most from a battery trimmer invest in a second battery so you'll always have a fully charged spare on-hand.
What features should I look for?
Tooth spacing: Put simply the larger and deeper the gaps in the blade the larger the wood a hedge trimmer can cut through. Generally you'll find power levels increase in line with blade gaps.
Blade Length: Longer blades make for a neater finish as you are cutting a larger plane with each sweep of the machine. If you've larger hedges a long blade is a must but check you are comfortable with the weight as they get heavier as the blade gets longer.
Handle: A must-have feature is an adjustable handle. This allows the handle to rotate to different positions to suit different cutting needs such as trimming the top of a hedge and then the face. It also makes operation easier whether you're working towards the left or the right, just swivel the handle.
Anti-jam function: Larger or harder material can become jammed in the teeth of a hedge trimmer. An anti-jam function allows you to safely remove material caught in the blades without putting your hands anywhere near the blades.
Safety
Despite their efficient and effective cutting motion hedge trimmers are in-fact one of the safest garden power tools to use. There are two main reasons for this – both hands are needed to operate them so it's virtually impossible to cut yourself and they don't operate at a speed that will throw out material in a dangerous way. There are however still some safety guidelines to follow.
When you're buying your new hedge trimmer use this as an opportunity to add or replace gear in your safety kit. Always select Australian Standards Approved safety equipment.
Eye protection – safety glasses or goggles
Gloves – medium-duty leather are ideal
Hearing protection – ear muffs or ear plugs. Check the Operators Handbook for more details.
---
Register Your Product
Register your product to learn more about warranty policies and more easily obtain service/support for your product.