MAINTAINING THE GARDEN IN WINTER
---
There is little downtime for gardeners in winter despite it being a slow growth season. As the temperature drops, take the time to prepare the yard for the onset of more stressful conditions to come.
---
1. REMOVE WEEDS
Broad-leafed weeds can take control of the weakened state of the lawn in winter. As rainfall increases, weeds will begin to appear across the lawn. It is best to remove the weeds before they mature and set seed.
For small areas, hand weeding is an effective way to remove weeds. For larger areas, control the weeds using a herbicide.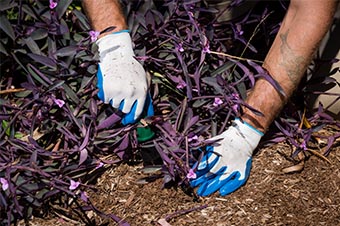 ---
2. REDUCE WATERING
Too much watering in winter results in the clogging of soil, so water for at least half the time of that in summer. Avoid watering plant foliage and water in the morning as this gives both the soil and lawn time to dry before nightfall, reducing the chance of fungal diseases.
Don't stop watering altogether as many soil types can drain away their water reserves in winter and, when the first warm day of spring arrives, the grass struggles to cope with the warmer conditions.
Instead, monitor the lawn and plants throughout winter and water accordingly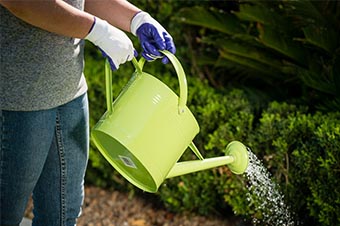 ---
3. ADJUST THE MOWING SCHEDULE
In winter, because grass grows at a slower rate, there's no need to mow the lawn often.
However, don't allow the grass to overgrow as this provides an environment for mould and fungal diseases to spread.
To avoid creating a lawn thatch layer, switch the lawn mower from the mulch to catch mode. Control the growth of weeds by cutting no more than one third off the blades ofgrass, giving weeds less sunlight to thrive.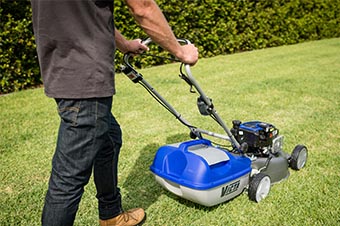 ---
4. DON'T NEGLECT THE TOOLS
Winter is also an ideal time to prepare gardening equipment for heavier use in spring. Brush or hose off leaves, grass and mud from the lawn mower and edger.
Use a stick to remove any debris caught in the lawn mower's blade and add fuel stabiliser to ensure it starts easily.
Store gardening tools in a dry place and remove any batteries from large equipment.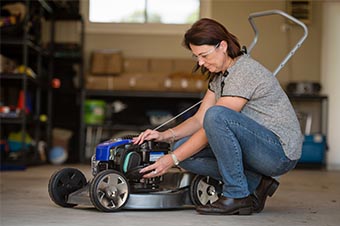 ---
5. PRUNE AND TRIM
Winter is the ideal time to prune as most plants are finishingtheir flowering season.
Prune deciduous plants to encourage regrowth in the spring.
Begin by pruning dead and diseased branches then remove overgrown foliage and smaller branches.
This will increase light and air at the crown of the tree as well as to anylawn underneath.
In mid-winter prune large bush roses, leave only an open framework of three or four main stems.
Also, prune shrubs that flower in mid-tolate summer such as hydrangeas.
Use a hedge trimmer to quickly rejuvenate overgrown hedges and createspace in the hedge for air and light.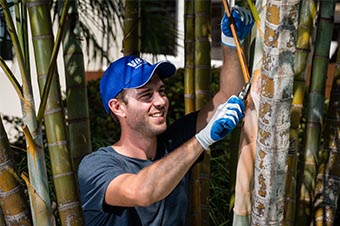 ---
6. LET THE LAWN BREATHE
During winter, following periods of rainfall, the soil is often compacted preventing the circulation of nutrients, oxygen and water.
Preparing the soil for a stronger lawn can be achieved through aeration. It is best to aerate the lawn when the soil is moist to achieve better penetration.
There are a number of tools that can be used to aerate the lawn, including a simple fork, spike boots or spike roller.
For larger areas, professional aerating machines can be hired from local hardware stores or machinery hire centres.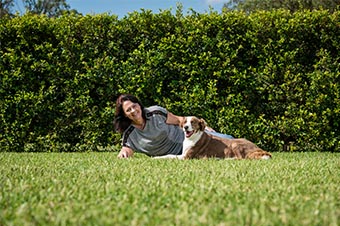 ---
7. ADJUST FERTILISATION FREQUENCY
For most plants, the frequency of fertiliser application can be reduced by half in winter as they grow slower and, therefore, need fewer nutrients.
However, some plants, like bulbs, winter vegetables and spring flowering annuals, maintain their growth rate through winter, so will still require nutrients to thrive.
Fertilise citrus plants in late July to promote crop growth moving into spring. For the lawn, it is best to use a slow release lawn food to develop a strong root system and thicker grass.
Aim to apply the first winter fertiliser at the very beginning of the season so the grass enters the colder conditions in a strengthened state. Fertilise again in the middle of winter, before feeding the lawn again at the start of spring.
---
FIND A DEALER
Take advantage of the expertise that only a Victa dealer can bring to their customers.
REGISTER YOUR PRODUCT
Register your product to learn more about warranty policies and more easily obtain service/support for your product.