---
---
Enjoy Quiet Lawn Mowing with Briggs & Stratton QPT™ Mower Engine
The latest groundbreaking small engine innovation, Quiet Power Technology, is designed by our team of engine experts to be 40 percent quieter* and less vibration than a traditional gas-powered lawn mower.
The same great power and performance you expect from Briggs & Stratton small engines, just much less noise.
Listen and compare for yourself

How does Just Check & Add Work?
Say goodbye to time consuming and messy oil changes. Since the Briggs & Stratton EXi engines require no oil changes, all you need to do is "just check and add" oil for the life of the mower engine.
The Briggs & Stratton EXi engine uses an automotive style paper air cleaner element that features a press-fit element design to keep dirt out of the engine. And an improved oil fill tube with extended flange protects the tube from debris during routine oil checks.
Additionally, the Overhead Valve Design of the EXi engine, and its innovative scroll design and cooling package, means the engine runs cooler, reducing the oil temperature. And cooler oil means slower decay and breakdown of the oil. Victa has combined this innovative engine with the Victa's Mower expertise to design a 40% quieter*, low maintenance mower range!
Check out the range below: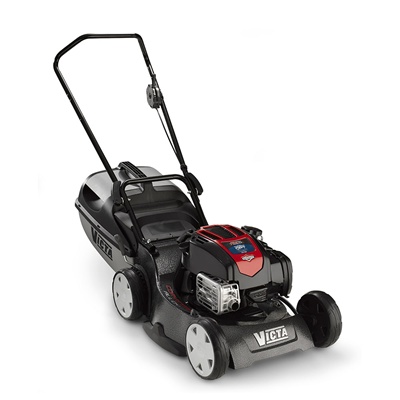 *Reduction in Sound Pressure Level (SPL) when compared with the Briggs &Stratton 725EX Series engine when tested in accord with Protection of the Environment Operations (Noise Control) Regulation 2008.
Product Registration
Register your product to learn more about warranty policies, upcoming promotions or special offers, and to more easily obtain service/support for your product. 
Frequently Asked Questions
Looking for more information on DIY tips or how to maintain your product? Take a look at our FAQs for more details.